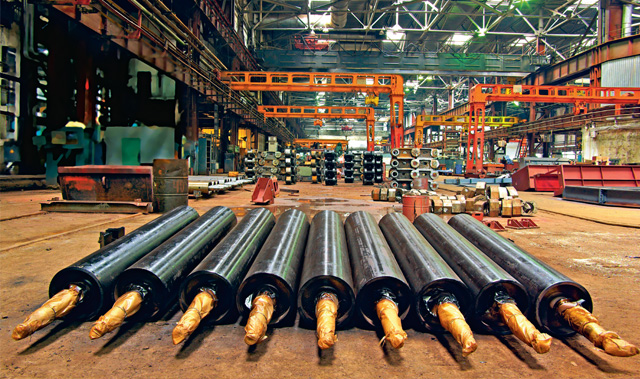 Purpose:
Guide bars are designed to guide the rolling movement direction.
End stops ascending, adjustable, sliding and stationary.
Continuous wheel grinding unit with 20 - 80 mm diameter.
Packs cleaning site.
Drawing-and-following rollers unit.
Manipulators.
Mechanical, pneumatic and hydraulic tilters of rolled metal.
Movable, screw-and-nutor rack type joggers, pushers.
Rack, chain-type transfer drags.
Gas and air fly gates.
Chimney valves.
Hydraulic guide bars before wide-strip rolling mills stands.
Heating packs product line.
Round and rectangular rolled steel trimming lines.
140 × 140 - 300 × 300 × 4000 rolled products dressing unit.
Overhead cranes.
Roll chocks.
Cutting heads, hydraulic shears.
Reducers (Hoisting, Crane) GK-1000, 1300, 1830, 1700, 1400.
Chains of coil conveyors of sheet rolling mills.
Gears, shaft pinions of reducers of rolling stands of section mills.
Straightener rollers (dual-layer) for section rolling mills.
Guide bars before finishing stands.
Cooling bed circuits.
Tools for tube-welding mills up to Ø60 mm.
Eccentric shears for section mills (in-line cutting).
Spare parts for cooling beds of section rolling mills.
Roller hearth of thermal furnaces.
Cast iron rolls of section rolling mills.
Swivel joints for furnaces with walking hearth.
Hot saws.
Sizing mills with 3 tons; 5 tons; 10 tons; 15 tons forces.
Powered bogies with 50 tons loading capacity.
Slitting cut units.
Trolleys loading capacity 63 tons, 80 tons, 100 tons, 125 tons, 160 tons.
Rail-guided powered bogies with 5 tons, 10 tons, 20 tons, 32 tons, 50 tons, 63 tons, 80 tons, 100 tons, 125 tons, 160 tons loading capacities.
Strip preparation line.